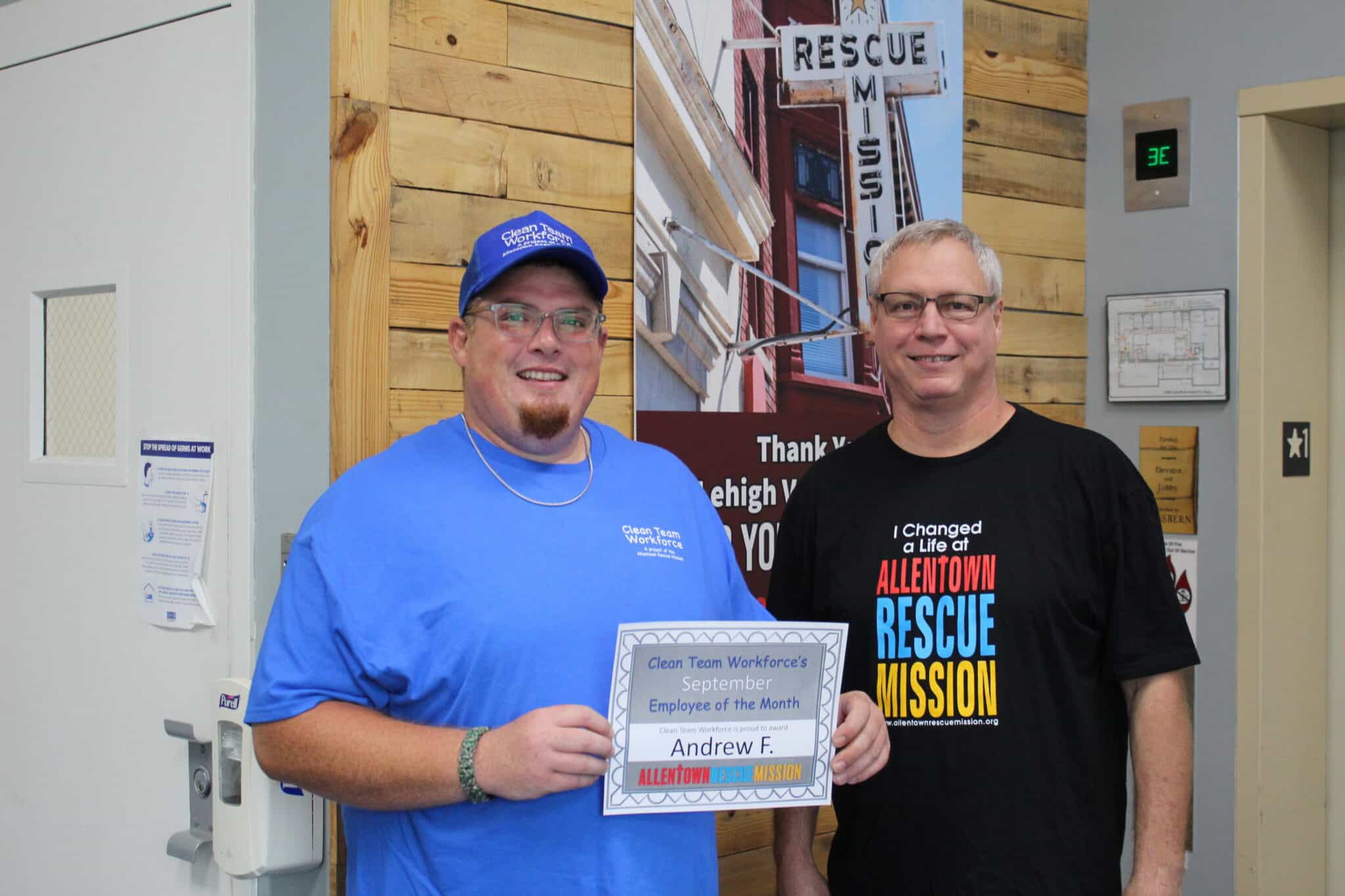 The Allentown Rescue Mission's Clean Team Workforce congratulates its Employee
of the Month for September, Andrew F.

Andrew sought the help of the Allentown Rescue Mission after losing his place to live at a recovery
house. The recovery house required guests to have a job, and Andrew was laid off from his job while
staying there. As a result, he needed to find a new place to live. Thankfully, a friend recommended the
Allentown Rescue Mission.

While residing in the Emergency Shelter, Andrew decided to join the Mission's Transformation Program.
Andrew described the life skills and Bible classes as "just the boost he needed." Andrew started to read
the Bible and attend church. He also learned how to build his resume and utilized the Mission's
scholarship program to enroll in a forklift certification program.

Andrew graduated from the Transformation Program in August and, since then, has been working with
the Clean Team Workforce doing many different jobs, including landscaping and estate clean-outs. In
the past, Andrew admits that he had difficulty maintaining a job for longer than a few months. He is
grateful to be working on the Clean Team Workforce and says it is helping him to be accountable for his
work. He also enjoys learning new skills on the job.

After Andrew finishes his forklift classes, he hopes to obtain a full-time permanent position at a local
company. He has prior warehouse experience and is excited about the many warehouse opportunities
in the Lehigh Valley.

Andrew's long-term goals are to glorify God in all he does, maintain a clean and sober lifestyle, start a
family, and continue moving forward in life.
---
The Allentown Rescue Mission, a 501c3, 123 bed non-profit homeless shelter has been providing shelter for homeless men since 1900. In addition to emergency shelter services (365 days a year), the Allentown Rescue Mission offers a residential life skills program, and transitional employment on the Clean Team Workforce that's available for hire to the community. The Clean Team Workforce pays the men above PA state minimum wage– helping them save a nest egg to transition back into the community. In a typical year, the Allentown Rescue Mission provides shelter services for over 946 men per year, and serves over 42,000 meals a year to men in need.
To refer someone to the Allentown Rescue Mission for services or to learn ways you can help make a
difference please visit www.allentownrescuemission.org