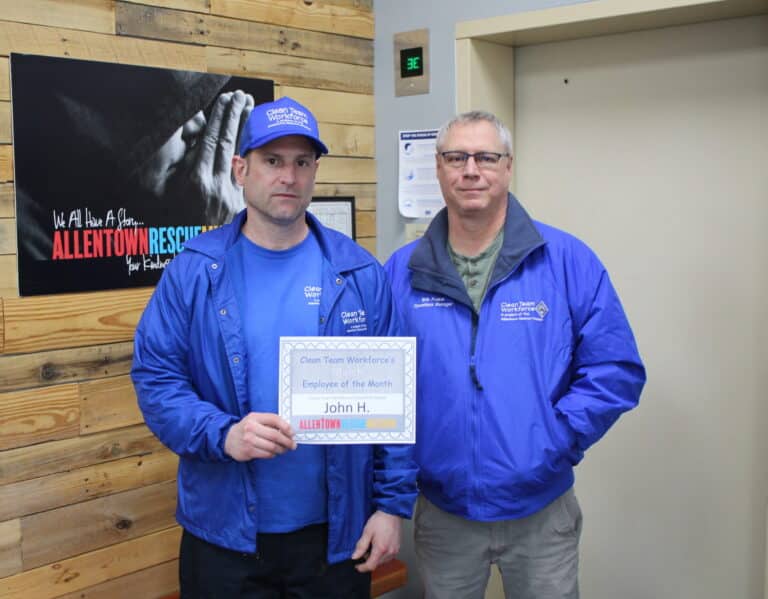 The Allentown Rescue Mission's Clean Team Workforce announced its Employee of the Month for March, John H.
John originally graduated from the Allentown Rescue Mission's Transformation Program in 2018 and worked for the Clean Team Workforce. Even though John was a hard worker, anxiety and depression took over his life and he decided to leave the Mission.
After leaving, John worked various landscaping and tree care jobs, but after a few years scraping by financially, he realized that his life wasn't working out the way he wanted it to, and he decided to come back to the Mission for help.
John rejoined the Transformation Program in August 2022. He wanted to be a part of the program to learn more about his relationship with God and build on his life skills. According to John, his faith grew more each day he was in the program, and he is now applying what he learned in the classes to start the process of changing his life.
After graduating from the Transformation Program in October, John began working for the Clean Team Workforce again. He has learned that working outdoors and staying busy relieves his stress and helps with his depression.
John is a hard worker and has been a great asset to the Clean Team Workforce. He has been saving most of his earnings and would like to find a place to live soon, but he wants to find a permanent job working outdoors in landscaping or construction first.
The Allentown Rescue Mission congratulates John for his dedication to the Clean Team Workforce and for being patient on his journey back to independence.