A WORSHIP SERVICE, GIFT GIVING, AND A DINNER
(Allentown, PA)— Christmas spirit was all around the Allentown Rescue Mission! On Christmas morning the Allentown Rescue Mission held a service for the men who are both in the Gateway Emergency Shelter and the Transformation Program. After the service, the men received some Christmas gifts then were served a Christmas dinner later in the evening.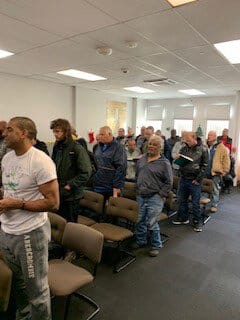 At 9 a.m. on Christmas morning, the Allentown Rescue Mission's chapel was packed with men worshipping the arrival of our Lord and Savior, Jesus Christ. A Christmas service was held and was enhanced with a few members of the Transformation Program leading the congregants in some Christmas Carols. The service was followed by a Christmas message from our Program Director, Rob Romig.
When the service ended, the men in the Transformation Program, as well as the Emergency Shelter guests, received some Christmas presents. Later in the evening, all the men gathered and were served a Christmas dinner to celebrate the holiday.
The Allentown Rescue Mission would like to thank all of you who donated gifts and food for the men. It is because of you that they were able to celebrate this joyous holiday! A big thank you to all of our donors who have helped support the Allentown Rescue Mission throughout the year as well. As it is said "It is better to give than to receive" and we would like to thank all of you for giving your time and support to the Allentown Rescue Mission.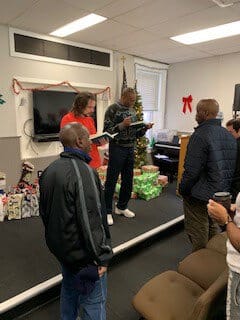 Since 1900, The Allentown Rescue Mission has fed multitudes of hungry and hurting men. Today we embrace all those experiencing homelessness with the compassion of Jesus Christ. We believe He has given us all a second chance in life-we've been saved, rescued and now get to provide that same hope and renewal to others here in the Lehigh Valley and the surrounding communities.